Welcome to the C.O.C.O. Plowing Match & Agricultural Society's online
50/50 CASH RAFFLE!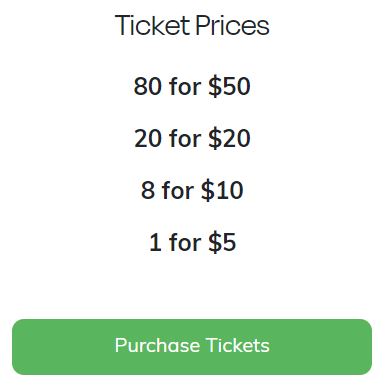 The 50/50 is now active - sales end 5:00 PM Monday June 26, 2023.
Draw date June 26, 2023 at 7pm at the COCO Arena.
June 23rd - 25th, 2023 we will be celebrating the 50th Wanham Plowing Match. This event has been a staple in our community since 1971 & celebrates the history and tradition of farming in the Peace Country region. Net proceeds from the raffle will go towards facility upgrades.
Please see the website for more info, www.wanhamplowingmatch.com
Thank you for supporting this fundraiser!

C.O.C.O. PLOWING MATCH & AGRICULTURAL SOCIETY RAFFLE RULES
1) Players must reside in Alberta, be 18 years or older, and use a major credit card, Visa Debit, or MasterCard Debit. Credit cards used for payment must have an Alberta address.
2) Tickets will be available online and sold at a rate of:
• 1 for $5 -- 100 packages available
• 8 for $10 -- 150 packages available
• 20 for $20 -- 200 packages available
• 80 for $50 – 80 packages available.
3) Ticket sales will end on June 26, 2023 at 5:00pm with the draw taking place at COCO Arena on June 26, 2023 at 7:00 pm.
4) The winner will receive a cash prize of 50% of ticket sales up to a maximum of $5,000.00.
5) All ticket numbers will be emailed to ticket purchasers by the registered Electronic Raffle Supplier (ERS), which is Rafflebox. A physical ticket will not be mailed out for this draw.
6) The winner will be determined by a random draw utilizing an Alberta Gaming Liquor Commission (AGLC) registered Electronic Raffle Supplier (ERS) Random Number Generator (RNG).
7) The winner will be contacted by phone and by email. The winner has 30 days to claim their prize; a second draw from the same numbers will occur after 30 days if the prize goes unclaimed.
8) By playing, you consent to having your name and winning numbers published.
Licence # 642031
* Jackpot is estimated *