Heavy Horse Events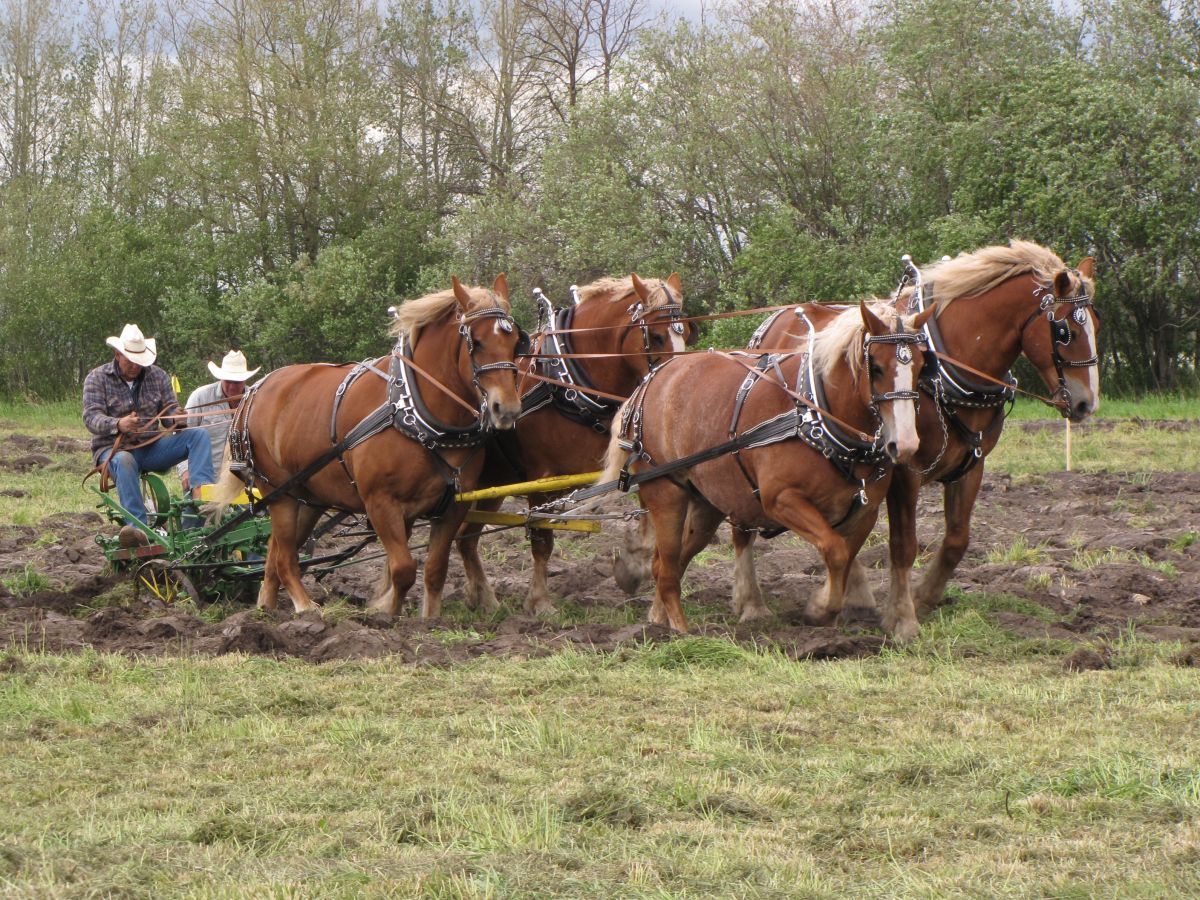 There are no entry fee for these events. All events to run each day.
Friday - Noon
Saturday - 10 am
Sunday - 9:00 am - 2:00 pm
WALKING PLOW EVENT: Mens - Ladies - Students, Novice - Advanced
SULKY PLOW EVENT: Mens - Ladies - Students, Novice - Advanced
GANG PLOW EVENT and ADVANCED GANG PLOW EVENT
Rules For Horse Plowing:
Participants may only plow in one plot per event. All plots have a 1 hr time limit. Minimum depth is 4 inches. Once the Contestants starts on the plot, he has to do all the adjustments or tripping himself; he is only allowed a helper to keep horses under control.
Ladies, Students and Novice are allowed a helper at all times.
Alberta Horse Plowing Championship - determined by the highest points accumulated in: Advanced Walking Plow Event, Advanced Sulky Plow Event & Gang Plow Event.
Must own & drive one team or your own horses.
Special Horse Plowing Awards:
Best Handled Team, Best Groomed Team, Best Crown, Best Finish, Top Junior Plower,
Top Novice Plower, Best All Round Horse Plower - determined by the highest points accumulated for the plower in the three different types of plowing events,
other than the AB Champion.
In the event of a tie in any of the above awards, the judges will make the final decision.
Special Horse Events
HEAVY HORSE SINGLE/TEAM LOG SKID: Friday - 9:00am
Pattern to be posted 1 hour prior to event. Penalties given for touching obstacles and
for the number of inches you are out on your 1-2-3 foot stops.
HORSE PULL: Friday - 4:00pm, Saturday - 5:00pm, Sunday - 4:30pm
We ask that all teams be weighed-in by 11am on Friday so that we may determine their category and the date they will pull.
*Please Note - in order to compete in the Horse Pulls you must compete in
one other working horse event.
Thank-you to our 2018 Plowing Match Sponsors:




PLATINUM SPONSORS:
SILVER SPONSORS:
BRONZE SPONSORS: